Ronni McGarty, Birth Doula
Professional labor assistance in Charlotte, NC
.
Choose a Joyful, Confident and Positive Birth
Pregnancy is an amazing experience in a woman's life, a journey into motherhood as your body nourishes the new life forming within you. This is also a time of growth for you, as you are already taking on new responsibilities of caring for your little one, beginning with the choices you make about eating well, staying healthy, taking childbirth classes and choosing where and with whom to have your birth. Deciding to add a doula to your birth team is one of the best choices you can make to assure a better birth experience for you and your baby.
Birth Support Can Shorten Labor
.
The presence of a doula at birth overall reduces:
- cesarean rate by 50%
- length of labor by 25%
- oxytocin use by 40%
- pain medication by 30%
- need for forceps by 40%
- requests for epidurals by 60%
Long-term benefits:
- improved breastfeeding
- increased time spent with baby
- decreased postpartum depression
"..Studies show that when a doula is present, women have less painful labors, fewer medical interventions, fewer Cesareans, and healthier babies. Recent evidence suggests that when a doula provides support, women are more satisfied with their experiences, and the mother-infant interaction is enhanced for as long as two months after the birth. Doula support has been found to have a positive effect on a couple's relationship as well...." Anne Deans, Your Pregnancy Bible
"Labor support is centuries old, but its advantages have now been validated in six controlled studies, and its benefits should not be overlooked......... The challenge is to turn to obstetric technology only when necessary, relying instead on the practice of continuous labor support to help the birth process follow its normal, natural course." John Kennell, Marshall Klaus, Journal of the American Medical Association.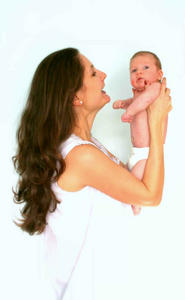 "We have a secret in our culture. It is not that birth is painful; it's that women are strong." -- Laura Stavoe Harm
For you created my inmost being, you knit me together in my mother's womb. Psalm 139:13
How Can a Doula Help Me?
A doula is a woman who is experienced and comfortable with birth, and has training to offer practical labor support to other women. She remains with mom throughout labor and birth, and is completely focused on the mother's needs for physical comfort and also emotional encouragement. She helps the mother feel confident, provides massage and other comfort techniques, and assists with laboring and pushing positions. A doula can also give informational support from her knowledge of birth, and protects the mother's choices without judging. Having a doula is like having your own "personal assistant" for childbirth!
A doula does not take the father's place at birth; she brings experience and confidence, while the father provides strength and love. A doula does not make any decisions for you or your family, or argue on your behalf with hospital staff. She will not perform clinical tasks such as checking cervical dilation or fetal heart tones, or operate or touch medical equipment. A doula is not a midwife--she does not catch babies!
"You're braver than you believe. Stronger than you seem. And smarter than you think." -Christopher Robin, in Pooh's Grand Adventure